Growling Since 1996



Current Date and Time:
;
Daily Market Report Page (11/16)
Weekly Market Summary Page (11/13)
Year End 2010 Summary Page (12/31/10)
Year End 2009 Summary Page (12/31/09)
Year End 2008 Summary Page (12/31/08)
Crash of 2008 Weekly Summary Page (10/13/08)
Click here for latest quotes for the week
Previous Week's Commentaries: Monday; Tuesday; Wednesday; Thursday; Friday
---
Current Links of Interest

David Haggith: Stock and Awe, Bears in Bondage (11/08)
David Haggith: US Stock Market Whistles Past the Graveyard (10/11)
David Haggith: Graphic Anatomy of a Stock Market Crash (08/09)
David Haggith: US Economy Keeps Moving Into Summer Storm (07/14)
David Haggith: Central Banks Buying Stocks Have Rigged US Stock Market Beyond Recovery (06/27)
David Haggith: Retail Apocalypse Engulfs US Economy – Shutters 23,000 Stores, and That's Just the First Destructive Wave! (06/20)
David Haggith: Is the Central Bank's Rigged Stock Market Ready to Crash on Schedule? (06/13)
David Haggith: Summer Storm Keeps Building as Second Dip of Great Recession Approaches (06/05)
David Kranzler: A Stock Market Crash: A Matter Of "When," Not "If" (05/30)
Benjamin Smith: The Latest Sign of a Looming Stock Market Crash (05/30)
Mate Cser: The Schiller P/E Hits 30 (05/17)
Dent Research: Could this be the Straw that Breaks the Market's Back? (05/08)
Mark Snyder: Have We Reached a Turning Point For Stocks? Tuesday Was the Worst Day (03/22)
David Haggith: 2017 Economic Forecast: Global Headwinds Look Like Mother of All Storms (03/08)
David Haggith: 2017 Economic Headwinds: Housing Bubbles Popping Up and Just Plain Popping Everywhere (02/27)
David Stockman: The Crash Will Be Violent (02/10)
Brian Maher: An Omen of Global Collapse (01/30)
Brian Maher: The Second Largest Bubble in 100 Years (01/25)
Curmudgeon: SoGEN "Bruised Bears" Shows US Most Overvalued Market (01/12)
EconMatters: Capital Destruction is a Fascinating Concept (01/09)
Moe Zulfiqar: Stock Market Crash: 3 Factors Say Big Declines Ahead for Stocks in 2017 (01/05)
David Haggith: If 2016 Wasn't the Epocalypse, What the Heck Was It? (01/04)
Curmudgeon: 2016 Market Review, Fund Flows and Bid Adieu (12/31)
Curmudgeon/Victor Sperandeo: Trump Viewed Thru Rose Colored Glasses; Victor's Market Updates (12/27)
Victor Sperandeo/Curmudgeon: Short Term Interest Rates, Unemployment, the CPI and ANIMAL SPIRITS (12/19)
Curmudgeon/Victor Sperandeo: Ecstatic U.S. Stock Market Defies History and Ignores Increased International Risk (12/12)
Curmudgeon/Victor Sperandeo: Italian Referendum Fails, PM Resigns; Possible EU Breakup? (12/05)
Curmudgeon: Russell 2000 Breaks Out to All Time High With a 15-day Winning Streak (11/30)
Victor Sperandeo/Curmudgeon: The Equity Markets and U.S. Dollar Continue Their Bull Runs (11/28)
Victor Sperandeo/Curmudgeon: Effect of Trunp's Fiscal Policies on Stocks, Bonds, Gold and U.S. Dollar (11/21)
Victor Sperandeo/Curmudgeon: A Requiem of the 2016 Election and Market Reaction (11/14)
Victor Sperandeo/Curmudgeon: 2016 Election – Impact on Politics, the Economy, and Markets (11/06)

If you are asked to register to access a website, go to www.bugmenot.com and
get an ID/password that already exists.
---
Current Market Data

Charts provided by BigCharts.com
Current Market Data: Dow averages, S&P 500, Nasdaq, and bonds
Current Market Data: Gold, Oil, CRB, sector indices, NYSE adv/dec, and dollar index
Current Market Data: Adv/dec, 52 week highs/lows, volume data
Overnight Quotes: S&P 500 (premium and settlement), gold, and currencies
CME GLOBEX Flash Quotes (S&P 500, Nasdaq 100, Euros, currencies)

Inflation Calculator From DollarTimes$
---
Favorite Web Sites

Newsletters and Commentaries
Market Charts, Data, and Statistics
Newspapers, Magazines, and News Wires
---
Weekly Charts
Dow Jones Industrials (11/10)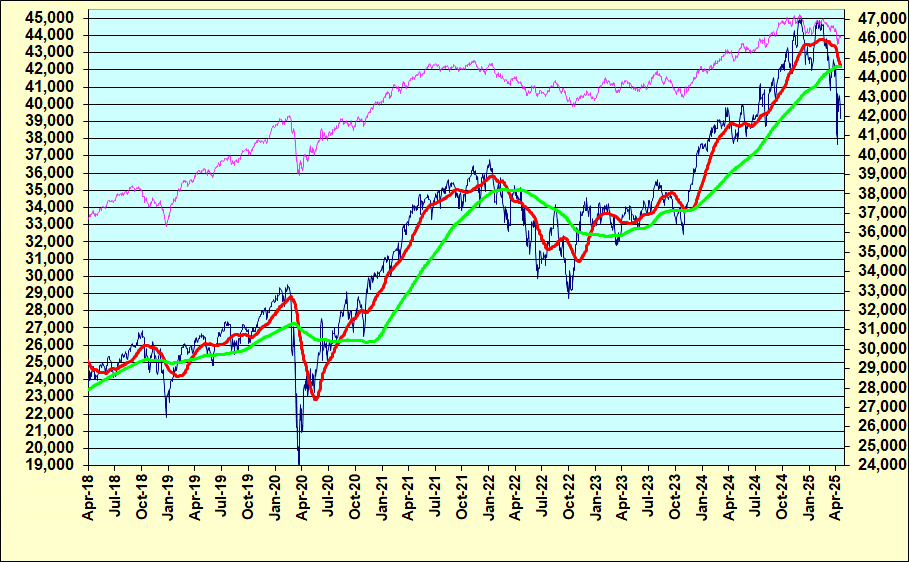 red line - 50 DMA; green line - 200 DMA; pink line - NYSE adv/dec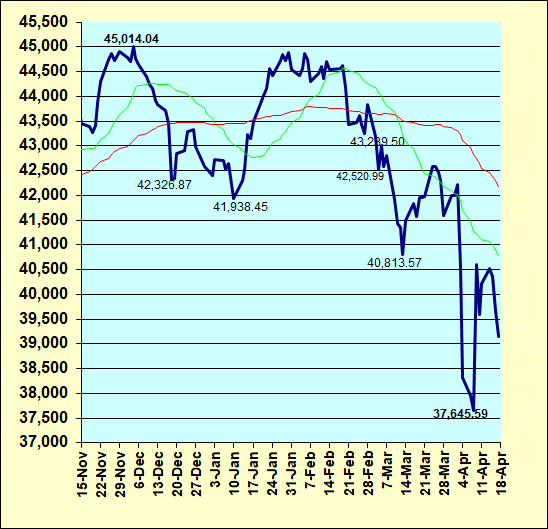 green line - Dow 21 DMA; red line - 50 DMA

NASDAQ Composite (11/10)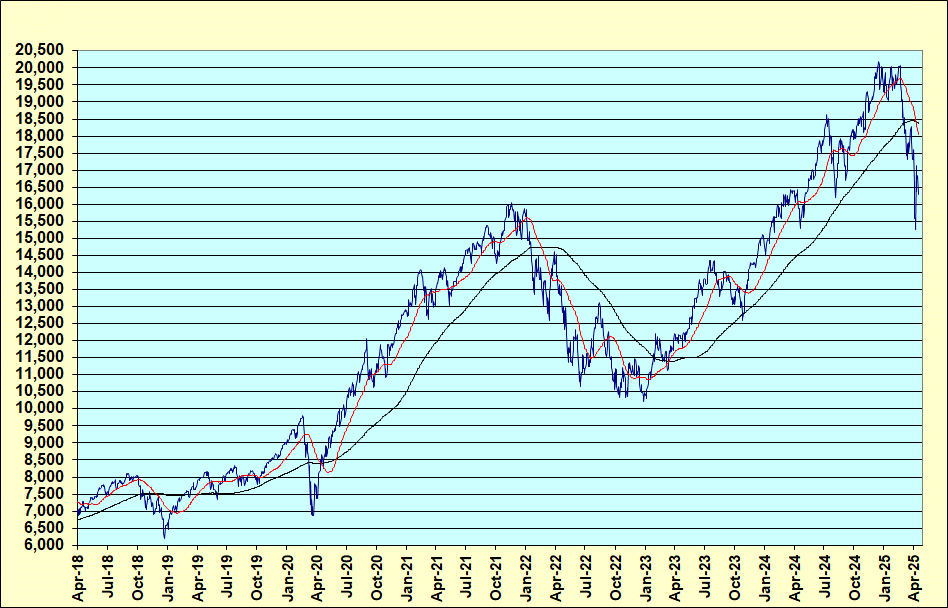 red line - 50 DMA; green line - 200 DMA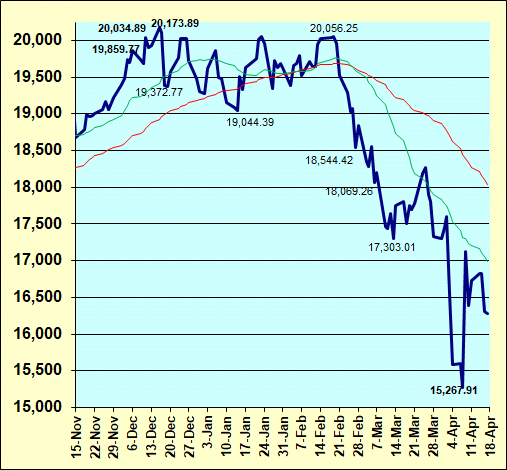 green line - 21 DMA; red line - 50 DMA
S&P 500 (11/10)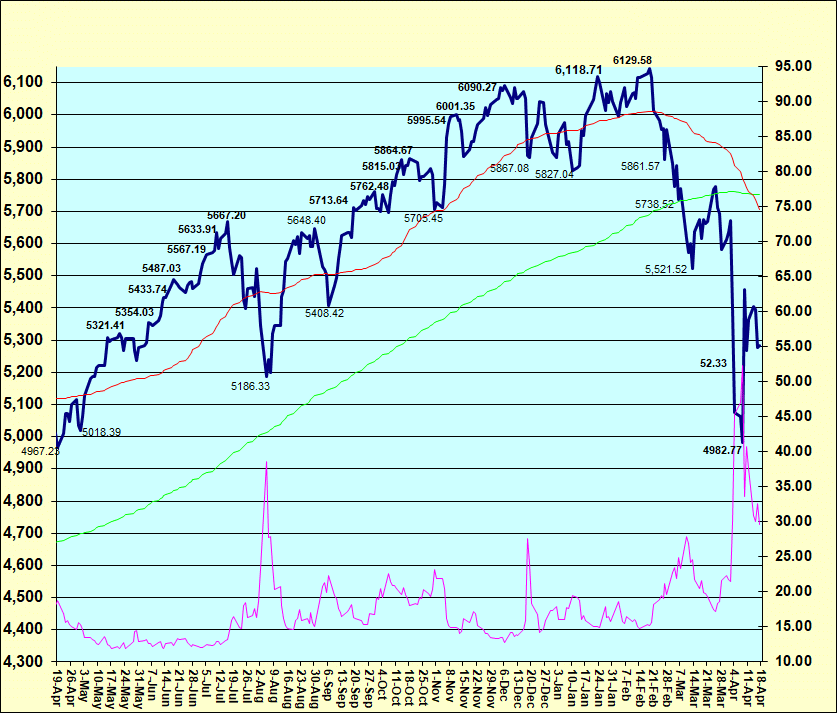 red line - 50 DMA; green line - 200 DMA; pink line - NYSE VIX
The Fed with its Keynesian vision believes it can hold off a correction forever. In the history of the stock market, that's never been done.

Confidence and complacency are more acute now than any time I've seen before. All expressions of overvaluation are at historical extremes. Despite this, most money managers remain in the market. The thesis is "if it's going up, regardless of anything else, I want to be in it." Perhaps the best indicator of complacency is the VIX which at its current level of 13 tells us that investors see no reason to protect their positions. Every minor decline is seen as a buying opportunity. The rationale is that the Fed would not allow anything worse than a 10% decline. If the stock market starts sinking between now and October 1st, I will be most interested to see if the Fed eliminates QE.

Richard Russell, 90-year-old publisher of the Dow Theory since 1958.
---

Archives
The Magic Wand of Liquidity Page (11/13/17)
Fiend's Bear Encounters (1939-42, 1973-74, 1981-82) Page
DJIA, adv/dec, and momentum data from 1990 to 10/23/17
Market Top of 1968 Revisited
Business Week's The Death of Equities Revisited
Tj's Financial Cartoon Gallery
Miki's Portraits of Some Bulls of the Millennium
---
This page was last updated on November 16, 2017.


Send comments or questions to the Fiend
Send comments or ideas to the Cartoonist
A picture of the Fiend
The Fiend's Summer1998 Vacation Page
The Fiend's Spring 1999 Vacation Page
The Fiend's Summer 2000 Vacation Page
Finally -- Some dive photos
Since May 7th, 1997, this page has been accessed
times.